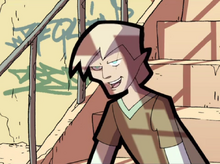 This article is just a stub. Please help by adding more information to it. The information is unsatisfactory and needs correction.
Ben is a character on Street Football/ Foot 2 Rue. He is captain of a soccer team called the "Spooks."
Relationships and Personality
Edit
Ben is a mean person and known to be a bully. He is an enemy of Tag and the Blues Team and also an enemy of Shark. One time he tried to take Shark's position as Chief and tried to run him out of the bay and challenged the Bay Sharks for it, that is until Tag intervened and played to keep Shark in his place and to keep Ben from taking Shark's position.
Ben also has an unemployed father.
Ad blocker interference detected!
Wikia is a free-to-use site that makes money from advertising. We have a modified experience for viewers using ad blockers

Wikia is not accessible if you've made further modifications. Remove the custom ad blocker rule(s) and the page will load as expected.